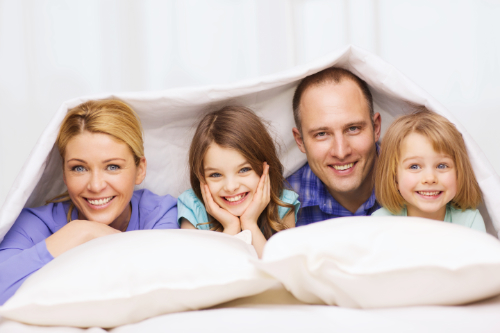 Are you looking for more spinal support? If so, you need to find a reliable pillow that can help you. Even though a lot of people believe that a pillow is designed to support the head, it also plays a significant role in the alignment of your spine. If you do not have the right pillow, your spine could fall out of alignment, leading to significant back pain, stiffness, and soreness. Then, if this is not corrected quickly, you could end up with chronic back pain, leading to a severe quality-of-life issue. What do you need to think about when you are trying to find the right pillow for spinal support? Keep reading to find out…
The Goal: What Should The Perfect Pillow Do?
First, you need to think about what you want your spinal support pillow to do. Ideally, you should find a pillow that can keep your spine, neck, and head in proper alignment. The pillow needs to support the natural alignment of your spine. This can alleviate neck pain, prevent back pain, it also alleviates pressure on your nerves throughout your entire body. How do you find the right pillow to do exactly that?
Consider the Loft of the Pillow
First, you need to think about the loft of the pillow. Ideally, you should find a pillow that has a medium loft. This refers to the overall size of the pillow.
You want a pillow that has a medium loft because it can alleviate pressure in your shoulders and neck. It will create a cushion between yourself and your mattress.
If your pillow has too much loft, your head will be pointed upward toward the ceiling as you sleep. If your pillow does not have enough loft, it will feel like you are lying flat on your mattress without a pillow at all. That is why you should think about the loft of the pillow before you make a decision.
Think About the Firmness
You should also think about the firmness of the pillow. You need a pillow that is strong enough to keep your head supported while also ensuring it is in line with your spine.
You do not want the pillow to completely flatten overnight. Otherwise, you could wake up in the morning with a pillow that is far too flat to give you any support at all. Even though you don't want the pillow to be so hard you can't fall asleep, you don't want it to be too soft either.
Does The Pillow Conform To Pressure?
Finally, the pillow should also conform to pressure. What this means is that your head should press into the pillow slightly, creating the feeling of your head being cradled by the pillow itself. That way, your head is comfortable, but it is also in line with your neck. You should also look for a pillow that provides some cushioning around your temples, which is particularly important for people who sleep on their backs.
Find the Perfect Pillow for Spinal Support
These are a few of the many factors you should consider if you are looking for the perfect pillowfor spinal support. Ideally, you would have the opportunity to try out multiple pillows before you decide which one is best for you.
Think about the loft of the pillow, consider the firmness, and make sure it will conform to pressure. If you need help finding the right pillow for spinal support, reach out to your local chiropractor. If you don't have a chiropractor, give us a call. Our Doctor of Chiropractic can assist you in finding just the perfect pillow for superior spinal support. So give us a call. We're here to help!
This article is copyrighted by Blogging Chiropractors for its Doctor of Chiropractic members and may not be copied or duplicated in any manner including printed or electronic media, regardless of whether for a fee or gratis without the prior written permission of Blogging Chiropractors.
For More Information
We would be happy to answer any questions you have about this article, general spinal health or your specific situation. To discuss your symptoms and concerns call (406) 234-2964.
DID YOU ENJOY THIS ARTICLE?
If so, get email updates for free! Just leave your email address in the field provided below and we'll handle the rest.
NEED TO SCHEDULE AN APPOINTMENT?
Then call Dr. Ken Stein at (406) 234-2964 today!
Stein Chiropractic and Sports Clinic
511 Main Street
Miles City, Montana 59301
How We Are Different
Dr. Stein is a unique Miles City chiropractor who specializes in difficult cases that have not responded to other care. All treatment plans are highly individualized based on your specific history, needs and goals.
Areas We Serve
We are located in Miles City and serve the communities that reside in zip codes 59301, 59330, 59313, 59349, 59337, 59324, 59317, and 59327. However, we see patients from a large radius around Baker, Forsyth, Terry, Hysham, Ekalaka, Glendive, and all of Southeastern Montana because of the unique, customized treatment options we offer.